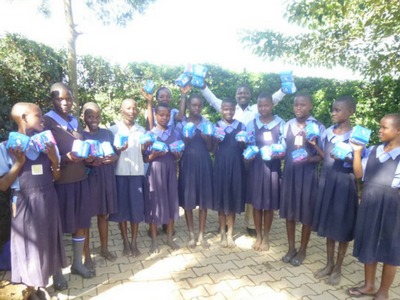 Denise is comprised of three major pillars namely Education, Health and Sustainability summarized as (HES)
Education:
We ensure that all OVCs in our area of operation are in school; we do provide scholastic materials, lunch and school fees through DFU sponsorship arm. Our target is to provide sponsorship to one thousand (1000) OVC households in a period of five years (5years).
All the enrolled OVCs are and shall be monitored both at school and household levels. This will ensure a proper track of record and follow up of our sponsored children and their performance.
In all our meetings with children, teachers, guardians and school administrators, we have found out that for children to stay in school, DFU should provide lunch, scholastic materials and school fees since they are the major factors responsible for school dropouts.
Under this arm, focus is on children's Sponsorship. Here DFU invites passionate people to become sponsor with us. For a monthly gift of £40.00, you can instantly change the life of a child.
Your monthly gift will provide the following:
-School Uniform, shoes and other wears
-Daily Education
-Food
-Basic Medical care and sanitary needs
Sponsoring a child is more than just giving money; your child will regard you as a good parent and will frequently want communication with you.
The child will consider him/herself as being part of your family. Your involvement in a child's life makes a dramatic and positive change.
Health
For our children to learn properly and stay in school, we ensure that they are healthy and can access free medical care and DFU caters for the bill.
However, under health we have a community health arm whereby OVC households are empowered with knowledge and skills of preventing common illnesses and good sanitation at house hold level.
This arm works hand in hand with health practitioners in giving community health education sessions, which provides preventative measures on such diseases like dysentery, malaria. Still in this area we look at children's diet, nutrition since most diseases attack children due to poor feeding. Here guardians are empowered with knowledge and skills in vegetable growing, poultry keeping and other food stuffs.
Sustainability:
In this sphere, DFU focus is put on household sustainability projects. DFU ensures that at least an OVC household can access food, clean water, can earn income at least one pound per a day.
We target to have the following household projects basing on the findings from the meeting with parents and guardians of OVCs:
·       Poultry, Vegetable gardens, Road side stall and Self-help Groups
   All the activities in this pillar are geared at community transformation and positive change in the lives and livelihood of OVCS.
The Denise Foundation UK is a registered charity in England and Wales, No. 1178870