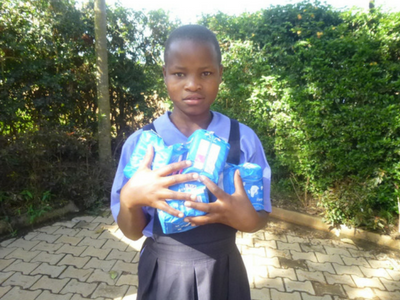 Denise Foundation Uganda is a nonprofit making organisation founded by one of the former world visions, sponsored child Ssemmanda Fred.
It was as a result of the loss of his beloved sponsor Ms. Denise Robertson who took the lead of fundraising for his education, building better shelter and becoming a Mother and Guardian Angel during the early days and tough times, when they had no-one taking care of them after they lost both of their parents due to HIV/AIDS.
The Foundation is currently operating in the District of Rakai where the HIV/AIDS scourge greatly affected the children and their families. These communities in the District are living below the poverty line, most of them live on below a dollar per day. Abject poverty, poor shelter, illiteracy, early marriage for young girls, school dropouts, food insecurity and poor sanitation are the outstanding characteristics and true description of these communities.
With the above, The Denise Foundation is coming out to slowly begin to manage the above effects of poverty and among others, we are currently focused on Orphans and other Vulnerable Children (OVCs) by making sure that they are in school and they enjoy learning by providing all what is required to stay in school.
So far, we have enrolled more than 100 orphans and other vulnerable children and we have supported them with scholastic materials.
We have a leadership team of 7 members in Uganda, the Chairperson, Vice Chairperson, Treasurer, Secretary, Committee members, Advisor and three members are in UK, the international coordinator, assistant international coordinator and ambassador.  In Uganda, we meet on monthly basis to assess progress and to draw plans for the next month.
GEOGRAPHICAL LOCATION OF THE ORGANISATION
The Geographical Location of the organisation in East Africa-Uganda, Kifamba sub-County, Kakuuto, Rakai district and its operations will be not be limited to the geographical boundaries of Uganda.
THANK YOU
We're done with the exercise we have been doing of distributing scholastic materials to different schools. We thank our volunteers who always deliver the services in time whenever the need arises.

Special thanks to our international coordinator Lisa Seferi, Mark Robertson, James, Margaret, Kimberly Gibbons, Natalie and Sam who is in preparation of charity ball and other members of team Denise Foundation UK for the tremendous work you're doing to educate the poor so that they can achieve their goals. We're very proud of you.
We can't also forget to thank the clients of Pure Bliss Spa for supporting the foundation.  Our humble request is to please continue doing so because you're changing many lives of orphans in Rakai - Uganda.
I call upon all the well-wishers who would like to sponsor a child, donate and partner with us.  You're highly welcomed"
The Denise Foundation UK is a registered charity in England and Wales, No. 1178870